2023 starts with 430 VC investments in January, showing a slight decline in the number of investments.
Number and amounts of announced funding rounds over the past 6 months*
* All data as of February 9th, 2023
Software startups are once again the most popular investment
During the month of January, 430 financing rounds were announced.
The total amount invested in the announced financing rounds decreased to $3.4bn from $3.6bn in December.
Once again, most investments were made in Software companies, amounting to 99 investments, followed by information technology (54). In January , investments in health care companies make up the third place  (48).
Top 10 industries of financed startups according to the number of conducted investments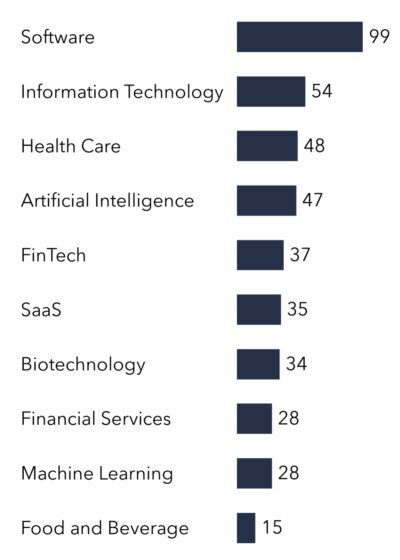 BPIFRANCE is the most active investor of January; 40% of the month's rounds were seed rounds.
Investors with the highest number of investments in January
Number and total volume of financing rounds per stage
Largest round was a Series D Round of $230.8mn
In January, most investments rounds were Seed rounds. Despite that, the largest volume of invested money was in Venture Rounds ($1,170mn). Only 1 large Series D round was conducted.
London, UK, is once again the European startup hotspot of the month
Not only were the most investments conducted in the UK (#107), but the highest volume was also invested there during January ($1,158.6mn).
Second most active country to raise venture capital is
France (54 investments, $683.3mn) and then Germany
(48 investments, $541.7mn).
In the spotlight: Enpal raised $230.8MN in January with the help of 6 investors.
Industry
Renewable (Solar) Energy
Founded in
2017, Berlin
One-Sentence-Pitch
Enpal is a photovoltaics leasing firm that provides solar power systems for homeowners.
Money raised
€215mn ($230.8mn)
Company valuation
€2bn (pre-money)
Type of financing round
Series D
Comment/Quote
Enpal raised €215mn ($231mn) in their 13th funding round.  Since 2017, Enpal raised a total of €1.7bn with the help of 30 investors. During the latest Series D round, the company was valued at €2bn.
Falls Sie mehr über Risikokapitalfinanzierung erfahren möchten, sollten Sie unseren umfassenden Ratgeber zu diesem Thema lesen: Risikokapitalfinanzierung: Ein Leitfaden für Anfänger
Trustventure berät junge Unternehmen zu Herausforderung im Finanzbereich und bietet CFO-As-A-Service-Leistungen an. Die Expertise in Fragen zur Unternehmensfinanzierung, Planung und zum Controlling schafft Transparenz und Sicherheit für Sie und Ihre Investoren. Melden Sie sich gerne über unser Kontaktformular oder schreiben Sie uns direkt an office@trustventure.de.